Karalux introduces unique 24K gold-plated iPhone 6 models
Specializing in customizing and gold-plating phones and supercars, Karalux would like to introduce 24K gold-plated iPhone 6 with various designs and many different styles.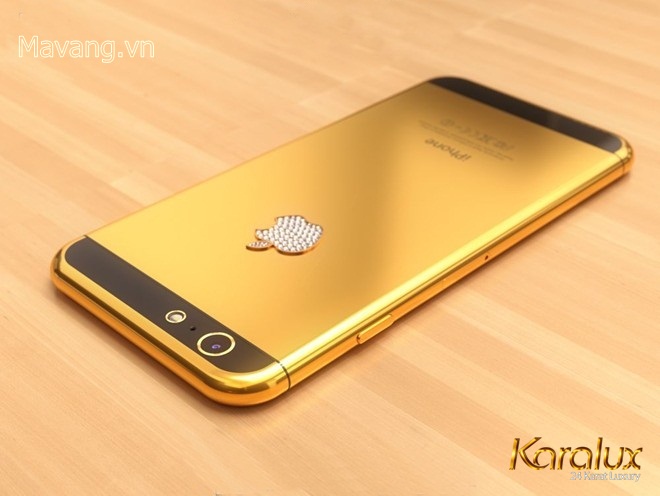 After officially launching into market, iPhone 6 has attracted a large number of iFans as its new features and screen size is much improved than iPhone 5s. In this introduction, Apple still keeps 4 traditional colors as the previous versions, such as: white, black, gray and legendary champagne.
Although iPhone 5s has an improvement in color – adding champagne color, it seems to be not enough to enchant iFan, especially 24K gold color fans. And it must be real gold layer.
To satisfy "gold color" passion, Karalux continues to introduce 24K gold-plated iPhone 6 models with many designs and different styles, especially customers can request the design and any engraved shapes in nearly 2000 design collection. Customers can even order to cast an integral gold case, or mascots such as Dragon, Snake, Horse … by integral gold, or apple image is stuck with ruby or diamond.
Gold-plated iPhone 6 look more special
Customers can order to design and engrave any shape
Even apples are also cast gold and precious stones
According to Nguyen Ngoc – Director of JSC VinaTAB – Karalux representative, said: "The gold-plating price of iPhone 6 is expected from 9-12 million VND. The price also depends on the sophisticated extent and thickness of gold layer which customers request.
In Vietnam, to order 24K gold-plated iPhone 6, Customers can contact order the following information
VinaTAB Corporation
Phone: 1900 6479 – 0902 316 316 – 0903 73 6789
E-mail: Tuvan@mavang.vn
Make a call and become the owner of the first gold-plated iPhone 6 in Vietnam
Karalux is a famous trademark gold-plating high-end gifts in Vietnam. Not only are we famous for gifting iPhone, Samsung, BlackBerry all over the world but we also are known as the pioneer in gold plating technology, specializing Rolls-Royce, BMW, Lexus. Especially, Karalux is also selected as a prestigious supplier of gifts for politicians, Heads of State, foreign partners, international travelers coming to Vietnam.