Karalux introduce another special 24K gold plated Rolls-Royce Phantom
Right after finishing hit Ly dragon carved and 24K gold plated Rolls – Royce Phantom, engineers of the Karalux continues to design another version for a new Phantom in Vietnam to celebrate Liberation ceremony.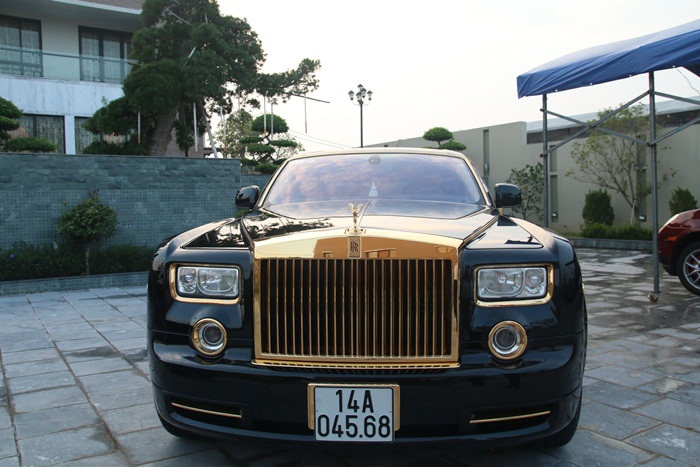 Right at 11 am , on 30/04/2014 the "supercar" was officially completed and handed over to the owner. This could be a unique version of the 24k gold plate Rolls-Royce Phantom which is worthy of international level.
According to Mr. Khoi Nguyen – Karalux brand director said: to avoid "being alike" and make a difference for this car, this version has different design from the previous one except few common gold plated parts.
The first major difference is the rearview mirrors. Unlike previous versions , these mirrors were decorated with external borders, as well as added with 1 Logo of Rolls – Royce.
To create the highlight for wheels but not to overuse of gold plated area, the engineers of the Karalux plated only a few details, highlighted the "Huaxi" bunch of the Logo of wheels .
The edges of the taillights boards and turn signals were also covered with gold
All the door handles , locks , rim of the glass splints are gold plated
In comparation with the previous Ly dragon Rolls Royce Phantom version, the highlight and the difference of this version is that it had 2 extra gold borders crossing bodywork , and was decorated with symbol ofdragon like "Drangon Year 2012".
According to Nguyen Ngoc – the leader of engineer team who implemented the "gold upgrade" for this car, said: " to have beautiful gold surfaces and layers , engineers have used Karalux plated tank method. That is, using the corresponding tank for immersing whole surface of plating needed items. Once an item is plated in gold liquid in certain period of time, the next stage is to pick out and dry. The last stage is to coat items with special paint to protect the coated surface. Time to dry and harden the surface requires 7-9 hours " .
"Another advantage is that "the gold upgrade" of the supercar in Vietnam will help car owners save from 6-8 billion in comparation with with hiring a company from oversea, while the quality is not inferior " – Ngoc Anh said.
The car was completed and officially handed to the owner. This is a unique work with the creation of the Karalux Engineers during the past 2 weeks, a complete work finished up to celebrate a gread ceremony in Vietnam on April 30th.
Mr Khoi Nguyen/ Mavang.vn
Karalux is a famous trademark gold-plating high-end gifts in Vietnam. Not only are we famous for gifting iPhone, Samsung, BlackBerry all over the world but we also are known as the pioneer in gold plating technology, specializing Rolls-Royce, BMW, Lexus. Especially, Karalux is also selected as a prestigious supplier of gifts for politicians, Heads of State, foreign partners, international travelers coming to Vietnam.