Karalux unveil a special iPhone 6 version with monolithic gold-casted shell
Karalux – a company specializing in customizing and gold-plating supercar, Karalux unveil a monolithic gold-plated iPhone 6 version. This is world's first iPhone 6 version with a shell is casted in gold monolithic.
 Read more: 
>> Visit our Ebay Store: Click here
>>  A world's first 24K gold-plated iPad Air 2 unveiled on market
>> BlackBerry Passport dotted gold-plated rims with monolithic gold
>> Rolls Royce Phantom 24k gold plated Dragon edition in Vietnam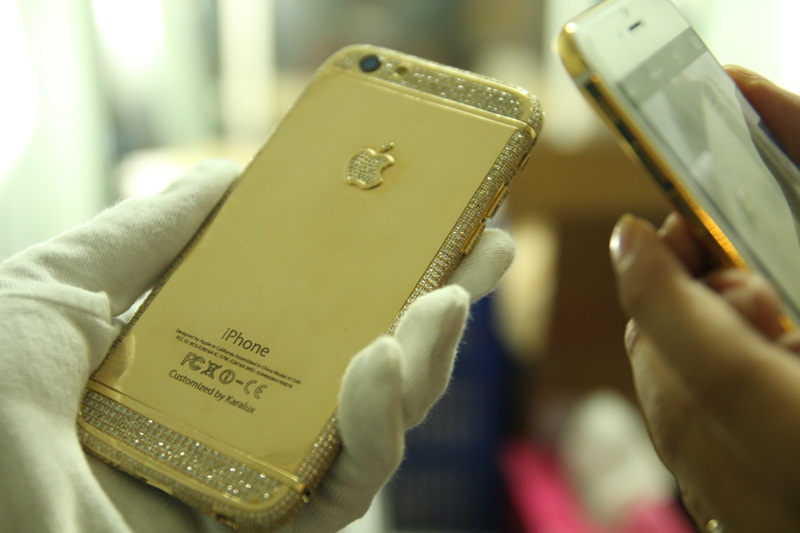 Right after iPhone 6 is officially launched on Sep. 19 2014 by Apple; Karalux's engineers urgently completed and launched a world's first gold-plated iPhone version 6 with gold dragon on its panel.
Then only 10 days later, Karalux continued to introduce a gold-plated the iPhone 6 plus version which is stuck diamond and gold Rolls-Royce logo, which attracted a thousands of iFans over the world.

In order to increase the uniqueness and luxury, Karalux continue to launch a monolithic gold-casted iPhone version 6. This might be the world's first iPhone 6 with monolithic gold-casted shell.
Our engineer team has spent 15 straight working days to complete this special version, from designing to making wax for all details including sim tray, ring/silent switches, volume button and power button. The most difficult stage is treatment of the iPhone shell. The next stage is to cast, clean surface and stick diamond.

The total weight of gold of iPhone 6 shell is over 154 grams and over 1.200 diamonds which is stuck around its edges. Because 24K gold is quite soft, Karalux team had to use 18K gold.
Currently, Karalux expect to launch only 10 iPhones 6 with gold-casted shell all over the world. The price is about VND 500 million/phone (or USD 25.000/phone). And the first owner is a director of a restaurant system – Vit Co Van Dinh.
 sim tray
iPhone 6's shell design
 This iPhone 6's shell was design by wax candle
The total weight of gold of iPhone 6 shell is over 154 grams and over 1.000 diamonds
[masterslider id="16″]
 See more Video: 
Mr Khoi Nguyen/ Mavang.vn
Karalux is a famous trademark gold-plating high-end gifts in Vietnam. Not only are we famous for gifting iPhone, Samsung, BlackBerry all over the world but we also are known as the pioneer in gold plating technology, specializing Rolls-Royce, BMW, Lexus. Especially, Karalux is also selected as a prestigious supplier of gifts for politicians, Heads of State, foreign partners, international travelers coming to Vietnam.