Karalux officially unveils a luxurious 24 gold-plated BlackBerry Passport version
Specializing in customizing phones and gold-plating supercars, Karalux officially launches the luxurious 24K gold-plated BlackBerry Passport version for businessman.
With the aim at serving for businessman, BlackBerry Passport version is designed with the passport-liked size as its name. The phone has a square 4.5 inch 1440×1440 touch screen (453 ppi pixel density) allowing displaying more content than most other smartphones of the same size.
As soon as this square smartphone with a large touch screen and a physical keyboard officially sold in Vietnam, VinaTAB engineers has urgently researched to early launch its gold-plated version to raise the value as well as luxury of its owners.
Like the previous versions of the BlackBerry such as BlackBerry 9900, Q10, S9810, this particular version is also coated a gold layer by Karalux engineers.
As Mr. Nguyen Ngoc – a chief engineer implements in gold-plating supercars and BlackBerry Passport said: "We spend from 3 to 4 straight working hours to finish all stages from disassembling to gold-plating. And the cost of this gold-plated version is from 8 to 10 million dong, depending on the sophisticated level and kind of gold which customer requires."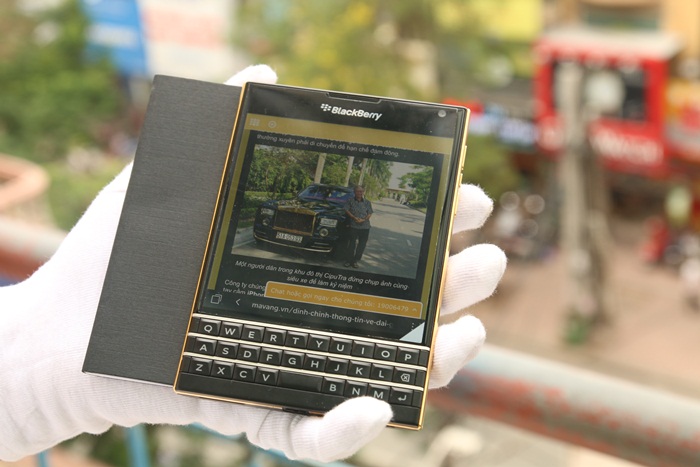 "Especially, customers can also require carving messages, business logo or motif on the phone to raise its luxury," – Mr. Ngoc added
Here is full Video Open Device Blackberry Passport
Please contact us at the address below to gold-plate BlackBerry Passport or supercars information:
Karalux
Karalux is a famous trademark gold-plating high-end gifts in Vietnam. Not only are we famous for gifting iPhone, Samsung, BlackBerry all over the world but we also are known as the pioneer in gold plating technology, specializing Rolls-Royce, BMW, Lexus. Especially, Karalux is also selected as a prestigious supplier of gifts for politicians, Heads of State, foreign partners, international travelers coming to Vietnam.