Karalux officially announce the first 24K gold-plated iPhone 6 over the world
Karalux officially launches a unique 24K gold-plated iPhone 6 version with gold casted monolithic dragon on its back panel. It may be the first real gold-plated iPhone 6 version in Vietnam.
As soon as Apple officially sold the iPhone 6 and iPhone 6 plus on Sept. 19, 2014 in the first 11 countries over the world, the iPhone 6 were available in Karalux in the late evening of Sept. 19, Vietnam time.
24K gold-plated iPhone 6 version with gilded Dragon monolithic
Engineers and technicians of the Karalux soon study the surface, as well as inside details of iphone 6 in order to they can conveniently disassemble or assemble, and gold-plate.
"The items of iphone 6, which need be gold-plated, are not apart from the previous iPhone version. The details include: phone frame, sim card trays, ring/silent switch, power button, volume button," said Mr. Nguyen Ngoc –chief engineer who implement to gold plate iPhone 6. "The special features of iphone 6 are its seamless back panel and plastic lines on its back quite different from iPhone 5 and iPhone 5s which back is glass."
One more difference between iPhone 6, 6s and the iPhone 5, 5s is the screws inside the phone. If the screws inside the previous iPhone versions have the same rate, iPhone 6 have different screws with different length, the screws in each position have different sizes. Therefore technicians have to carefully watch and remember each position.
Buy Gold iPhone 6 on Ebay
Their next difference is the apple icon. For the previous iPhone versions, apple logo is coated a metal layer and attached to the back panel surface. Meanwhile, for the iPhone 6 version, apple logo is removable like Macbook version.
Like other iPhone versions and other phones, Karalux engineers still use the plating tank method, which dip all items which need be gold-plated into a tank of gold, to gold-plate.
The entire shell of iPhone 6 is immersed in a tank of gold. With this method, the surface of gold layer will be stuck evenly and be brighter.
After dipping gold, the engineers will paste a temporary protective layer over the plated surface.
Mirrored coating technology is used to create a surface mirror coating can mirror.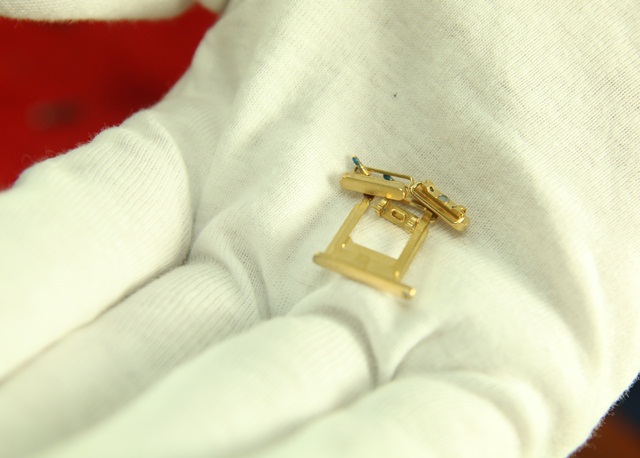 Small details such as sim card tray, 2 screws outside the phone, volume button, and ring/sleep switch are also immersed in the tank of gold.
It takes nearly 50 minutes to disassemble and assemble iPhone 6
And it takes about from 120 to 150 minutes to gold-plate iPhone 6, depending on customers' requirements of carving, form, or types of gold (white gold, rose gold, 24K gold)
This could be the first 24K gold-plated iPhone 6 version over the world
 It looks more professional and luxurious when owning 24K gold-plated iPhone 6
Please contact the following address to 24K gold plate iPhone 6 and phones:
Karalux
Karalux is a famous trademark gold-plating high-end gifts in Vietnam. Not only are we famous for gifting iPhone, Samsung, BlackBerry all over the world but we also are known as the pioneer in gold plating technology, specializing Rolls-Royce, BMW, Lexus. Especially, Karalux is also selected as a prestigious supplier of gifts for politicians, Heads of State, foreign partners, international travelers coming to Vietnam.