BlackBerry Passport dotted gold-plated rims with monolithic gold
Right after announcing the first 24K gold-plated BlackBerry Passport version in the world, Karalux specializing in processing phones and gold-plating supercars continue to launch a special version – a BlackBerry Passport version dotted gold-plated rims with monolithic gold.
As you know, the recent phones of the BlackBerry have surrounded by stainless steel rim. But the partitions of the keyboard, and the rim of phone back are made from plastic and non-metal. Thereby, it is more difficult for Karalux engineers to gold-plate these items.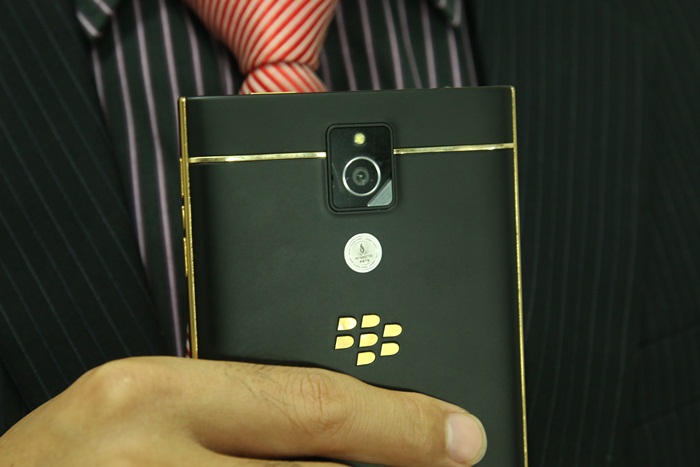 Meanwhile a gold-plated BlackBerry Passport version, which is introduced by Karalux on Oct. 25, 2014, has phone frame and other items such as the power button, and volume button 24K gold-plated, this version has some differences – much more gold-plated details. The phone's logo, 2 rims on the back of phone, and horizontal rim on the keyboard are coated a gold layer.
Like BlackBerry Q10, Karalux engineers carry out many stages including removing and disassembling all partition of the keyboard, the BlackBerry's logo is replaced by a piece of 24K monolithic gold.
The BlackBerry's logo is also coated a gold layer
Mr. Nguyen Ngoc – a engineer do gold-plating this version said: "It takes from 6 to 8 continuous working hours to process the partitions and rim. Engineers have to accurately measure the thickness, length, and curved rate of golden rim. We spend nearly 6 grams of pure 24K gold to gold-plate rim of this phone."
"Although it does not take much gold, but its price is quite high because it takes a long time, especially the engineers must always implement ingeniously, carefully and accurately," – Mr Ngoc added.
According to Mr. Khoi Nguyen – Director of Karalux said "the sale price of a BlackBerry Passport version dotted monolithic gold is from 35 to 40 million VND. Currently, Karalux have plenty of orders from both domestic and abroad including Canada and the Arab countries.
Mr Quang Huy/ Karalux
Karalux is a famous trademark gold-plating high-end gifts in Vietnam. Not only are we famous for gifting iPhone, Samsung, BlackBerry all over the world but we also are known as the pioneer in gold plating technology, specializing Rolls-Royce, BMW, Lexus. Especially, Karalux is also selected as a prestigious supplier of gifts for politicians, Heads of State, foreign partners, international travelers coming to Vietnam.