Karalux introduce Lexus RX 350 with 24K gold plated in Vietnam
The Firm specializes in customizing phones and gold plate the supercars and Karalux/ Mavang.vn urgently complete the final stage to introduce an original 24K gold plated Lexus RX 350 in Vietnam.
Lexus is the luxury vehicle division of Toyota, a Japanese automobilemaker. First Introduced in the USA in 1989, Lexus has quickly become the best selling luxury car brand here, in 2006 Lexus was present in 68 countries and territories around the world. And Lexus is also the most trusted car brand in USA market in 2013.
Although until end of 2013, Lexus was officially distributed in Vietnam, many Lexus, imported from many different sources, had seen surfing the streets of Vietnam before. This demonstrates the number of car fans and Lexus fans is not small in the market of 90 million people.
To continue to rise value and elegance to this luxury car, Karalux / Mavang.vn is rushing to complete the final stage to introduce an original Lexus RX 350 24K gold plated in Vietnam.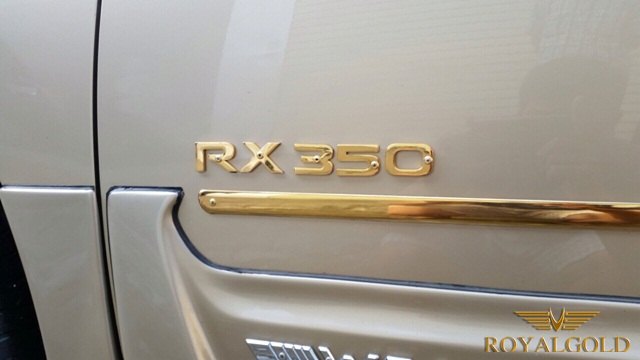 Like previous gold plated cars, the front Logo and rear are 24K gold plated. Highlights of the 24k gold plated Lexus RX 350 version is that rims and hems of the car body were further customized by engineers at Royal Gold.
Besides the Lexus Logo is gold plated to increase the "hit" for the front and engineers of Royal Gold also customize a metal lid on the fender.
The Logo of front and back of Lexus RX 350
Customized small details to decorate for rims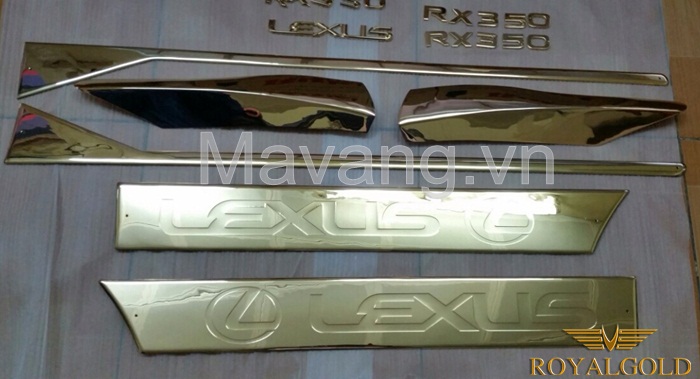 Customized details for car body
All details for Lexus Logo and other details is customized by Karalux/ Royal Gold
After coating 24K gold, the next stage is dry, and then the items are coated with hard Nano paint to protect the surface and the gold layer will also help to avoid external influences such as sand, gravel, or scratches during moving.
"It takes near 20 days to conceptualize, calculate details, and customize and gold plate," said Nguyen Ngoc – an engineer who implements the gold plating for this car. The car's owner is from Vinh City – Nghe An.
Karalux is a famous trademark gold-plating high-end gifts in Vietnam. Not only are we famous for gifting iPhone, Samsung, BlackBerry all over the world but we also are known as the pioneer in gold plating technology, specializing Rolls-Royce, BMW, Lexus. Especially, Karalux is also selected as a prestigious supplier of gifts for politicians, Heads of State, foreign partners, international travelers coming to Vietnam.