Rolls Royce Phantom 24k gold plated Dragon edition in Vietnam
Recently , Karalux  – a company specializing in upgrading and decorating automobiles, motorcycles and phones in Vietnam has introduced a special Super Car Rolls Royce Phantom – 24k gold plated Dragon edition  in Vietnam.
New and different from the hot Dragon edition "Year of the Dragon 2012" before, in this edition of Dragon Karalux has created a new and unique characteristic bearing deep culture and history of Vietnam . The car has a "makeover" with Vietnam's dragon motifs , and the 24K gold plated details.
From conceptualizing to designing, as well as advising the the owner of the car, then gold plating it took nearly 2 weeks .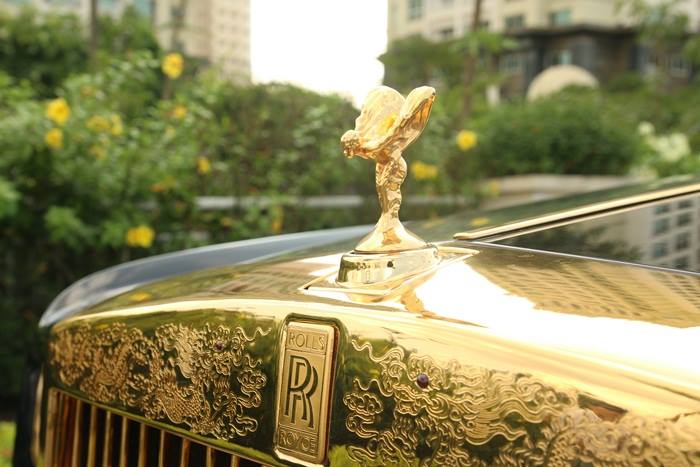 To avoid being "look-alike"to previous dragon versions and create unique features for this Phantom car, after much pondering , consulting , the "Ly Dynasty Dragon couple " symbol was chosen .
The entire front shield of the hood , and the back parts are carved with two dragons Ly Dynasty . Two Dragons' heads in the direction towards the Rolls-Royce logo in the middle .
To keep the parts and accessories of the car original , Karalux 's engineers have designed and created a new set of the front bumper and the back hood for it .
To make layers of gold adhesive on the surface , the engineers of Karalux had to clean, polish surface of all parts, then all parts were dipped in a tank of liquid copper ( Cu ) in a certain time. After that, they were plated in a tank of liquid silver ( Ag ). And finally they were plated in a tank of liquid gold ( Au ) .
Due to the large area of the car details, tanks of liquids were required to be large enough so that all parts of car can be dipped deeply in liquid tank to help all surface coated as standard.
Karalux is known as a reputable brand in Vietnam specializing in gold plating automotive
The price for this supercar to come into Vietnam is about 30 billion VND, excluding the cost of upgrading, decorating and coating with 24K gold
The thickness of the coating surface is up to 12 Micron . In addition, to protect the gold layer from abrasion , after gold-plating finishes , VinaTAB engineers coated the surface with a coat of special nano paint.
A representative of the Karalux brand said the car belongs to one of the Real Estate giants from Ho Chi Minh City . However, the identity and the cost of 24K gold plating were not disclosed .
Karalux is known as a reputable brand in Vietnam specializing in gold plating automotive , motorcycles and phones, luxury gifts . Earlier Karalux has done many kinds of VIP cars like Rolls – Royce Phantom , BMW or Mercedes . Especially recently the company has launched 24K  gold plated roses uniquely Made in Vietnam and a special set of 24K gold plated eight horses to greet New Year 2014 .
Mr Khôi Nguyên
Karalux is a famous trademark gold-plating high-end gifts in Vietnam. Not only are we famous for gifting iPhone, Samsung, BlackBerry all over the world but we also are known as the pioneer in gold plating technology, specializing Rolls-Royce, BMW, Lexus. Especially, Karalux is also selected as a prestigious supplier of gifts for politicians, Heads of State, foreign partners, international travelers coming to Vietnam.