Karalux unveil the prices of 24K gold-plated iPad Air 2 in Vietnam
Right after iPad Air 2 and iPad mini 3 are officially announced by Apple, Karalux – a company specializing in processing and gold-plated phones and supercars – also announced the 24K gold-plating cost for this version. At 0 o'clock on Oct. 16, 2014 USA time, Apple officially launched the iPad Air 2 version, iPad 3 Mini version and iMac Retina.
>> Read more: BlackBerry Passport dotted gold-plated rims with monolithic gold
Shortly afterwards Karalux specializing in customizing phones and gold-plating supercars quickly introduce the service prices for gold-plating iPad Air 2 and iPad mini 3 in Vietnam.
As representatives of Karalux, "The gold-plating costs for iPad Air 2, iPad mini 3 have been adjusted and different from the gold-plating costs for the previous iPad versions."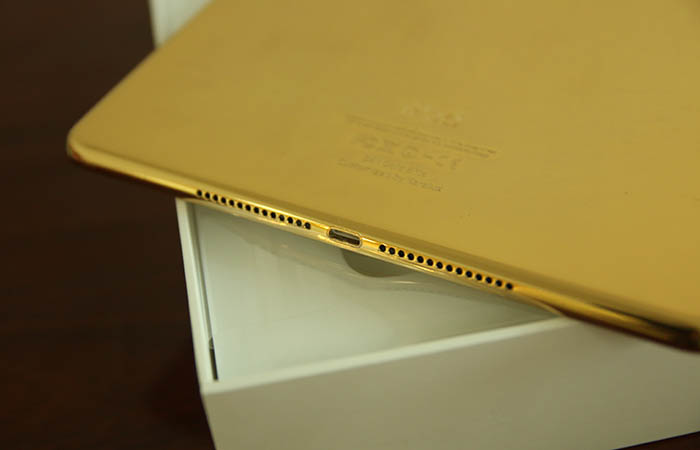 "Specifically, for iPad Air, the gold-plating cost is priced at its size and its type (normal type, and 4G type). The gold-plating cost for iPad Air 2/ 128 Gb and the iPad Air 2/ 4Gb is 14 million VND/phone. Other types of iPad Air have the same gold-plating at 12 million VND/phone. Meanwhile the gold-plating cost for iPad mini 3 is unchanged at 10 million VND/phone."
Additionally, there are nearly 2000 designs which customers can choose.
The available gold-plated iPad 2 prices as follows:
– IPad Air 2/16 Gb: 25 million VND
– IPad Air 2/64 Gb: 28 million VND
– Air iPad 2/128 Gb: 35 million VND
Especially, customers ordering a gold-plated iPad Air 2 within Nov. 2014 will be awarded a 24K gold-plated tie-pin Sor a 24K gold-plated Zippo.
Please contact us at the following address to gold-plate iPad Air 2 and iPhone 6 with 24K gold:
Mavang.vn
Karalux is a famous trademark gold-plating high-end gifts in Vietnam. Not only are we famous for gifting iPhone, Samsung, BlackBerry all over the world but we also are known as the pioneer in gold plating technology, specializing Rolls-Royce, BMW, Lexus. Especially, Karalux is also selected as a prestigious supplier of gifts for politicians, Heads of State, foreign partners, international travelers coming to Vietnam.