The first 24K gold-plated Samsung Galaxy Note 4 version all over the world
Specializing in manipulating phones and supercars, Karalux officially launches the first luxurious 24K gold-plated Samsung Galaxy Note 4 version in Vietnam.
As soon as Samsung Galaxy Note 4 was officially introduced in Vietnam, engineers of Karalux have urgently studied its surface and materials in order to timely coat a gold layer for the first Note 4 version in Vietnam.
Unlike the previous Note version and the Galaxy S series – the ring around of Samsung phones are made of chrome-plated plastics, but in this announcement, the Samsung Galaxy Note 4 are improved with aluminum monolithic frame.
Monolithic aluminum frame not only makes feel steady when handing but also increase the luxury of a Smartphone…. This is also a tendency of aluminum frame and skin of the high-grade phone series in the recent years.
If iFans loved to gold-plate and customize the iPhone series in the previous time, they have a further chance to enjoy the Samsung Galaxy Note version with a shiny 24K gold layer in this time.
The ring around Camera and Flash are also coated with a gold layer
To timely meet iFans demand of coating a gold layer for their beloved phones, Karalux officially launches the 24K gold-plated Samsung Galaxy Note 4 version with shiny gold color.
According to Mr. Nguyen Ngoc – engineer implementing in gold plating Galaxy said: "It takes about 3-4 working hours to disassemble to gold-plate this phone."
Galaxy Note 4 & iPhone 6 plated by chocolate gold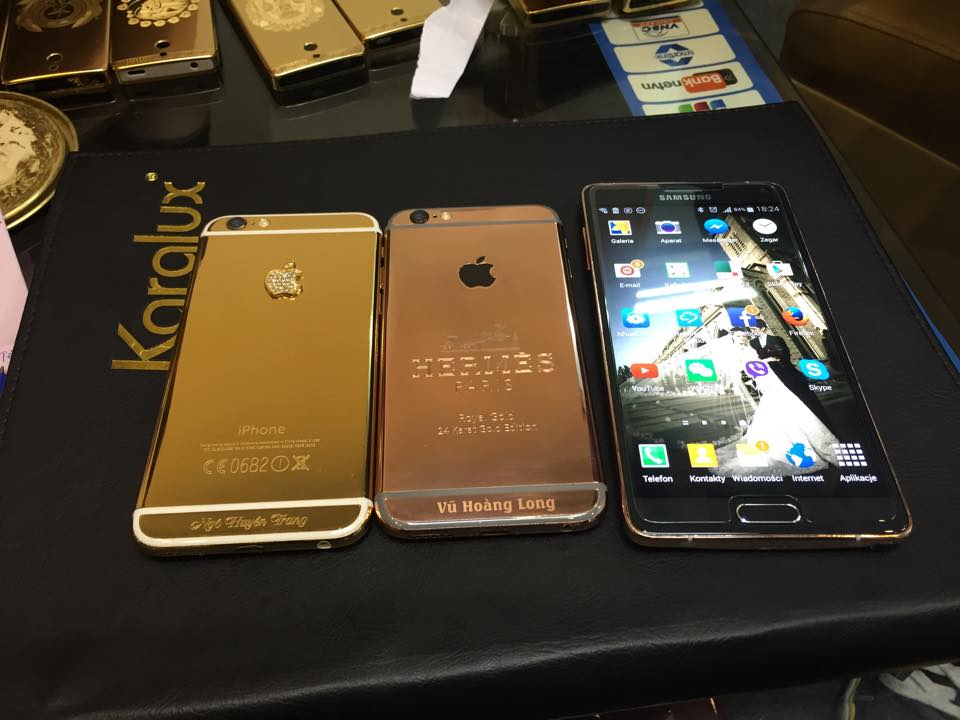 "Like other phones, by plating tank method, all items which need gold-plating will be disassembled, and then the engineers will have to process and activate the frame surface and all items. We carry out nearly 10 different processes and stages to gold-plate this phone before carrying out the final stage – dipping the Galaxy Note 4 frame into the gold tank," – Mr. Ngoc adds. "The cost for gold-plating Galaxy Note is from 6 to 8 million dong/phone."
The sleep/wake button on the Note 4 frame is also dipped into the tank of gold
The Volume buttons are also gold-plated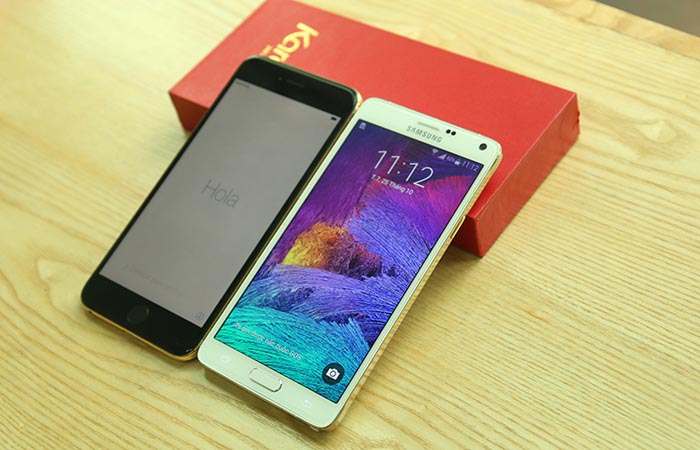 Galaxy Note 4 has the same size as iPhone 6 Plus
However, the back panel of iPhone 6 plus is made of monolithic aluminum, meanwhile the back panel of Galaxy Note 4 is made of plastic
Galaxy Note 4 is more consistent with the Android fans who like a light gold layer and adornment.
Galaxy Note 4 is lightly beautiful with gold rings
One of the major advanced features of Samsung is that the edges around the Galaxy Note 4 are made of monolithic aluminum
Please contact the following address to 24K gold plate Samsung Galaxy note 4, Galaxy Alpha, Samsung Ego S9402:
Karalux is a famous trademark gold-plating high-end gifts in Vietnam. Not only are we famous for gifting iPhone, Samsung, BlackBerry all over the world but we also are known as the pioneer in gold plating technology, specializing Rolls-Royce, BMW, Lexus. Especially, Karalux is also selected as a prestigious supplier of gifts for politicians, Heads of State, foreign partners, international travelers coming to Vietnam.